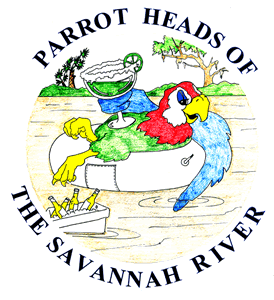 January 20, 2007 Board Meeting Minutes
1st. The Board brought forth a motion to amend the points system. Points to be awarded for attendance and fund raising participation only.
2nd. The board discussed possible name changes for the club. Names on the short list for now are as follows, CSRA Parrot Heads or Jimmy's Gypsies. If you have any other ideas please forward them to and officer or board member. We will vote on the name change during regular elections in April.
3rd. The board also discussed ideas on collecting different items to trade with other clubs during MOTMs. Also how to collect them. Items such as coozies, buttons, beads, tattoos, t-shirts, ect. Any other ideas please share them with the club at the next meeting.
4th. The board agreed to have a chili cook off Feb.18th for Mardi Gras. This will be held Momma Bears in New Ellenton S.C. It will begin at 2:00 pm with judging at 5:00 pm, hope all will attend. This will be open to anyone who wants to participate. A charge of $2.00 for tasting all the chili, as well all the chili you care eat. We had a great time with this before so we hope you can attend.
5th. The board also elected to continue collecting pop tops and canned food. Johnny and Wendell said they would deliver those items.
6th. The board came up with some new ideas for charities this next year. such as: a blood drive with Shepherd Community Blood Center, a car wash, Paralyzed Vets, Pet Shower (similar to a baby shower). If any other ideas pop up please share. We also decided to continue with MCG by answering phones this year. A small note, (If you volunteer to do this, please make it a point to be there.)
7th. Possible Special Olympics participation may be in the works. Karl has the info for point of contact, should this go forward. The idea was bought up about a possible trip to Columbia S.C. for St. Patrick's Day festivities, March 17th., as well.
8th. The board also looked at extending the terms of officers to 2 years as opposed to one. This would be set up to have the President and Treas. elected to 2 year terms and Vice Pres. and Sec.to 2 year terms, opposite of one another. Board shall stay the same. These things will be discussed at the next meeting. All the things above are important to the club and it's continued support of the community in which we live. Please be at all meeting when ever possible to voice your opinion.