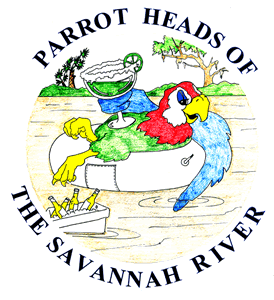 Our Charities
Inpsired by the example set by Jimmy over his career of giving back to the community around him and helping out many great causes, as well as the mission of Parrot Heads in Paradise, the Parrot Heads of the Savannah River engage in a large number of charitable, humanitarian, and animal welfare activities!
Our Club's Manatee - "Ariel"
As a part of our commitment to the welfare of animals, our club recently adopted a mantee from the "SAVE A MANATEE CLUB"
Here's some information on our little cutie!
FIRST IDENTIFIED: DECEMBER 25, 1973 (JIMMY'S BIRTHDAY!)
SEX: FEMALE
HABITAT: HOMOSASSA SPRINGS WILDLIFE STATE PARK, FLA.
SHORT HISTORY: ARIEL WAS RESCUED WITH HER MOTHER, AMANDA ON CHRISTMAS DAY 1973. AMANDA HAD BEEN INJURED BY A MOTORBOAT; ARIEL WAS ONLY TWO WEEKS OLD AT THE TIME. MIAMI SEAQUARIUM RESUED AMANDA AND ARIEL. THEY REMAINED IN MIAMI UNTIL JULY 14, 1986, WHEN THEY WERE BOTH MOVED TO THE HOMOSASSA STATE PARK. TODAY, THEY LIVE IN THE PARK. ARIEL HAS A YOUNGER SISTER, BETSY.