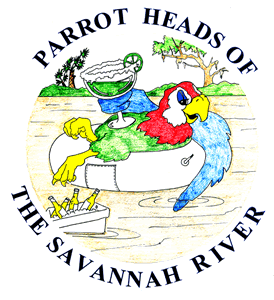 May 19, 2007 Board Meeting Minutes
The Parrot Heads of the Savannah River held a board meeting on 5/19/07 pryor to the general meeting. The following things were discused.
Money raised up this point for the calender year.
For Febuary-- $67.00 for the SPCA.
For March-- $457.00 for the Make-A-Wish Foundation
For April-- $55.00 for the Breast Cancer Walk in Atlanta.
The Board also discused the idea of a carwash fundraiser. The board agreed it would be good thing to do, and the charity would be decided by the July meeting as well as location for the event. It would be held on the regular meeting day of August.
Also discused. Answering phones for MCG Childrens Med. Center. Karl, Susan, Wendell, Cathy, Ron,Carol, Johnny,Connie agreed to participate. We still need 2 more people.
Board wanted to check on the cost of a banner to take where ever we go to hang to tell who we are. On the banner would the club logo and web address for contact info.
Christmas in July is still planned for Becky Moores house in July it will be the same day as the meeting.
Charities for the year up to this point will be . Childrens Med. Center @ MCG, Golden Harvest food Bank, Ronald McDonald House, aswell as Children Place in Aiken S.C.. (We are still deciding what the carwash will be for)