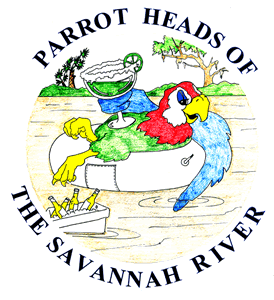 Chili Cook-Off 2005
(Click on the thumbnails to see the big pictures!)
Chili Cook Off Winning Recipe
Chili Cook-Off and Winning Recipe
Article submitted by Susie Sadowski
Recipe submitted by Carol Ayer
I'd like to thank everyone who helped in any way with the chili cook-off in February, including Janice Coleman for letting us have this outing at her great bar and restaurant "Mama Bear's" in New Ellenton, SC. Special thanks to everyone who brought/bought chili, bought or brought items for the raffle and to Kay Taylor for taking all those photos. The cook-off was alot of work. How about having a bake-off the next time? We had about 13 chili entries, but only 5 people submitted recipes, which is not enough for a chili recipe pamphlet to sell, so please give me your recipes if you would like this pamphlet to become a reality. In the mean time, here is the recipe for the winning entry: Carol Ayer's "Chocolate" Chili"
Ingredients:
3-4 lb ground beef
2 lb pork sausage
3 med. onions, chopped
3-4 lrg red and green bell peppers, diced (or your favorite chili peppers: serrano, Jalapeno, ancho, etc. to taste)
3-4 cloves of garlic, roasted
3, 28 oz dan of dized tomatoes (Carol uses Progresso Fire Roasted)
2, 28 oz can tomato sauce
3, 12 oz cans Rotel tomato with green chilis
6 oz can tomato paste
5-6 cans dark red kidney beans undrained
3 cans black beans, rinsed and drained
2 Tbsp cumin
2 tsp oregano
5 Tbsp chili powder
12 oz can of beer
1 oz (square) of baking chocolate, grated
Salt and pepper to taste
Beef broth to thin if needed

Directions:
Puree the roasted garlic with the diced tomatoes and place in large pot.
Brown ground beef and sausage in olive oil, drain on paper towels, add to pot.
Saute onions and peppers, drain, add to pot.
Add Rotel tomatoes, tomato sauce and tomato paste. Stir well. And cook for 15 minutes.
Add all other ingredients, stir well and cook for at least 3 hours

THE LONGER YOU COOK IT THE BETTER IT GETS.
Serve topped with sour cream, green onions, and grated cheese if desired.